Cignition Launches New Assignment Tool That Takes Students On Crafting Quests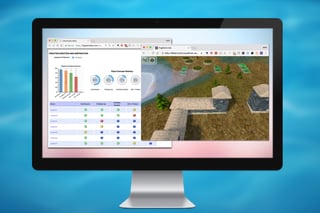 Imagine if a student's first back-to-school math assignment came not in a worksheet, but in the form of a quest, directing them to craft buildings, grow plants, corral their animals, and create products. Cignition's Fog Stone Isle virtual world math program, recognized by Common Sense Education as a 'Best-in-Class' 5-star digital learning tool, just released a new assignment feature that has the potential to change how students view math homework.
"Though FogStone Isle is all about the creative process, empowering students to explore and create their own virtual worlds, it still needs to align to a teacher's instructional goals," stated CEO Mike Cohen, founder of Cignition. "We believe we've successfully melded both needs in a way that allows students to stay engaged while aligning to the scope and sequence of instruction sought by teachers."
Through their Workstation, teachers can now direct student crafting activities by mathematical topic, assigning problem sets that the game translates into crafting 'quests' - craft three buildings, make two farms, create a factory, etc. Based on the built-in machine learning, the program adapts the quests presented to a student to keep them in their optimal zone of challenge - demanding enough to keep them working, thinking, and progressing, but not so far beyond their capabilities as to make them frustrated.
"This has been a common teacher request, and we're excited to launch it, along with new games expanding our math curriculum, all included in our free-to-schools program. Many teachers have stated our new assignment tool will enable their back-to-school review of topics from previous years, saving classroom time for new material while providing needed review and visibility into any gaps students may have in earlier material," stated Mike Cohen.
About Cignition:
Cignition transforms how children learn math, bringing engagement and learning efficacy to classrooms through FogStone Isle, an online virtual world math program created by neuroscientists, teachers, and game designers. As students craft their world, they grapple with the mathematics – learning the underlying concepts and building mastery. Cignition provides FogStone Isle completely free to elementary and middle schools as well as to parents for after school and summer programs.