Wondering How Online Tutoring for Kids Works? Here's Everything You Need to Know to Get Your Child on Track for Success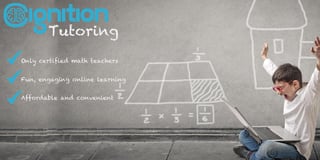 It's clear that your child is struggling in math, and you're worried about getting them back on track. You may be thinking about trying online tutoring for kids, but it's all a giant question mark in your mind. How do you choose between online tutoring companies? What's the best online tutoring? And, most importantly, what will serve your child best? Here's what you need to know about this process, so you can set your child up for success.
Why Cignition
First, it's important to understand that not all tutoring for kids is created equal. More than 70 percent of our tutors have their Master's degrees, with an average of 19 years teaching math. That level of expertise and experience is hard to find elsewhere.
Second, we make the entire process fun and enjoyable for you and your kids. Since everything is done virtually, scheduling is a breeze and based on what works for you. We also integrate hands-on, real-world examples into our math learning - along with our virtual world FogStone Isle - kids stay engaged. This approach and our immensely qualified tutors are what makes us the best online tutoring option available.
How it Works
The first step is for you to give us a call or fill out our quick scheduling form online. We'll get your child booked for an initial session, at no charge to you. After its conclusion, we'll provide you with feedback on the session and information on creating a tutoring plan.
If you decide to continue with us, we'll then complete a diagnostic assessment of your child's math learning needs. This will help us form a detailed and personalized learning plan for your child, including goals and milestones to progress your child effectively along their learning journey. At this point, we'll also recommend 30, 60, or 90-minute sessions, as well as the frequency per week that will help your child most.
Once we officially begin, your child will be matched with an expert tutor in their specific area of need. They'll spend their sessions working on problem-solving techniques based on understanding, important math concepts, and hands-on application. They'll also be assigned practice work, delivered in our fun and engaging FogStone Isle virtual world learning environment. Our combination of live expert tutoring and fun game-based practice will help your child stay motivated and excited, and will get them to a solid understanding of math much faster.
FogStone Isle has been recognized by awards programs like Common Sense Education, Mom's Choice Awards and EdTech Awards, and is used by over 200,000 students. It helps kids enjoy learning math while gaining deep conceptual understanding, and our students love it.
Let Us Earn Your Trust
Here's what one child said about our tutoring: "The sessions were really helpful. I was able to learn new strategies on how to solve a problem. If I didn't understand the problem the tutor tried to show it in a different way and gave me the time to understand it." And here's what one parent had to say: "I listened in to the tutoring sessions today and [tutor] was very clear and explained things really well. Both of my children enjoyed working with her."
With a free initial session, and the ability to change or cancel your plan at any time, we've made it easy and risk-free to give us a try. We invite you to call us or fill out our online form today, so we can help your child get back on track with math - and you can breathe easier.